We are Caviste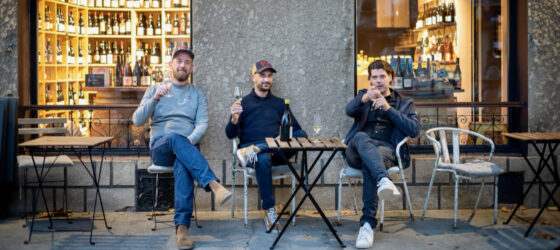 CAVISTE.SE IS USED FOR CUSTOMERS LOCATED IN SWEDEN
VISIT CAVISTE.EU IF YOU ARE LOCATED IN FRANCE
Caviste was founded in 2011 by friends Yannick Molinari, Martin Berggren and Karl Arbin. The website caviste.se is used for our swedish audience to continually offer new and exciting discoveries mixed with old favorites. A CAV offer includes a selection of six bottles, usually two or three different wines, from a selected producer's portfolio. To put it simple, we want to minimize the distance between producer and consumer.
Caviste independent – We buy the wine directly from the producer, without the involvement of other intermediaries. We believe this is the best way for wine consumers to gain access to quality driven artisanal wines at a fair price.
Quality – Quality for Caviste means honest wines, grown and made by a farmer, a family, in close contact with the land they work. Quality for us is about balance, not power. About wines that will tell you about their heritage, their terroir, and carry a sense of place. The producers that Caviste works with are growers driven by passion and conviction and who share our values about quality.
Fair pricing – Besides quality and passion, fair prices are an important part in our philosophy. We only work with producers who share our view that price should reflect quality. We are convinced that the price paid will influence how the wine is perceived and the knowledge that you have paid a fair price will make your experience with the wine a better one. Buying wine from Caviste always means paying a fair price that will stand up to comparison.

Honest and transparency – SARL Caviste SE is a French company, seated in Villeneuve, Alpes-de-Haute-Provence. The company is since 2011 registrered as a distance seller according to 15 and 15 a §§ in the Swedish Act of Excise Duty on Alcohol to comply with the regulations surrounding distance selling of alcohol to swedish individuals.

---
Contact details
SARL Caviste SE
282 Chemin du Trecol
04180 Villeneuve
FRANCE
E-mail: info@caviste.se
Internet: www.caviste.se
SARL Caviste SE au capital de 10.000 euros. Siren: R.C.S. Manosque 537 504 979.
Swedish VAT nr. SE502070665001.